November is always a pleasant month for us and one of the main reasons is that we get to open the Burmese incubators.
Now last year this time, when we hatched a clutch of albinos, an interesting thing happened. A few of the people that had feverently booked babies suddenly decided that they actually prefered normal ones. You know, the " albinos are a bit boring, colourwise, and everyone seems to have one these days." bit.
Not the types to disappoint, Jax and myself set to work on breeding some het for albinos for the more indecisive python enthusiasts amongst us.
Now they can bloody well design their own!
Here is 2008's story.
First, a romantic weekend getaway for Max and Maggie. ( both snakes are proven breeders with many offspring out there, so calling them by name is in my humble opinion, appropriate. )
Then a bit of a wait.
After not a million years, Maggie starts to 'roll'. She is distributing the heat from the floor, evenly amongst the developing eggs. Note that she is lying on her back. Not long to go.
When a four and a half metre python manages to hide herself so well, it's time to become suspicious.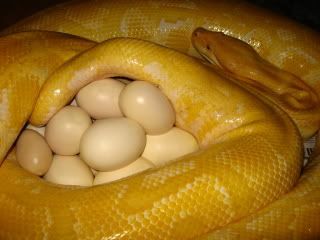 And this is why.
A cold, sleepless night and 42 eggs later, its time to introduce the hatching boxes to the incubators. There are 11 infertile eggs that we keep with the others to help keep the the temperature stable. These eggs are discarded after 6 weeks.
About three weeks from hatching date, the mother ( Maggie ) realised that she was supposed to be taking care of something, but wasn't entirely sure of what. So without any further delay, she moved across to her tree and tried to be the best mom that she could. for an aaaaw cute moment, go here...
http://www.youtube.com/results?search_q ... type=&aq=f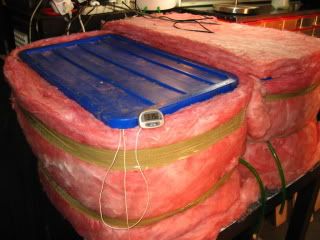 56 days and it's time to check.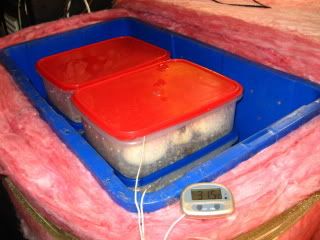 Looks like a little face there.
Right on time!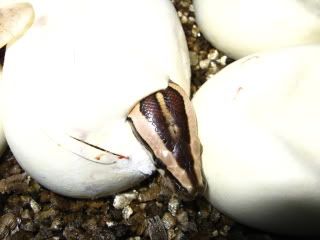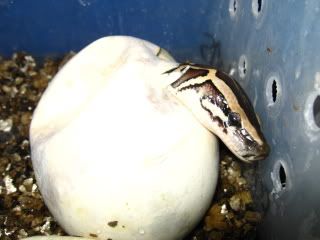 And this is why we love what we do.
More than half of these little ones have been booked already, so, if you happen to be interested please contact me ASAP.
They are obviously true het for albinos and we are asking R 450.00 each
Thanks
Graeme 082 4749139