I went away with some friends to Riet River, 12 km past Port Alfred this weekend. It was amazing, we had stunning weather and spent the entire time relaxing, days on the beach or in the river and bonfire or braai at night. I didn't get much chance to go looking for herps, but some found me... My friends are not too keen on me taking their sons out looking for reptiles (especially the little ones), but if there is one on the path in front of them they will call me to rescue them!
Some pics of what we saw from one of the houses we stayed in...
The house I stayed in, which is losing a fight with the dune (the other houses were above this one behind the vegetation).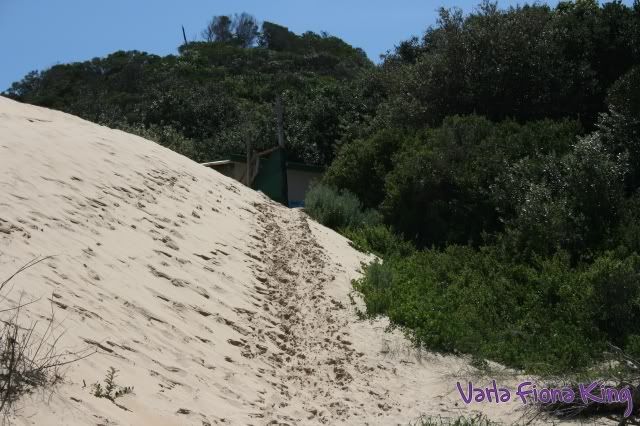 Night Adder which was found on the path we used to get to the beach. I relocated it to the vegetation past all the houses.
Painted Reed Frog (
Hyperolius marmoratus
) found on the deck of one of the houses when we were braai-ing. Was released near the river later that night, but no good photos were got as the 3 year old, 4 year old and 18 month old were far too interested in it to let me get any. The smallest one kept trying to squish it, but only cos she is so little that she hasn't learnt how to be gentle yet - she can now say Frog though!!
Sand Frog (
Tomopterna tandyi or delalandi
) Only way to tell the difference is call or some lab work, according to our expert, but it didn't call and I released it later that evening. I did not want to bring any of them back for the collection as they would just be killed and they would probably have died on the trip back anyway as we didn't have aircon in the vehicle we took. The funny thing is the friend who found it and gave it to me is married to Tandy and this could be Tandy's Sand Frog!!