Here is the abbreviated story of our newest little Green Tree Pythons .
This is the father, who with hindsight, is certainly NOT the Aru type that I've always thought he was. The looks are right but the skull is a little more 'dragon' shaped than it should be, and anyways Aru's only produce yellow offspring. Fingers are pointing towards a race called the Jereh, which are part of the completely green Jayapuras, but actually have a few white scales (not clover markings) along the back. These are known for producing whole litters of maroon offspring.
Introducing mom, a gorgeous Sarong type with the most gentle nature that you can imagine. Here she is being cycled for breeding in one of the tubs that we use, due to the ease of temperature and humidity control.
This was unfortunately the only shot I was able to get with regards to hanky-panky as both parties involved are a little shy, and would whip up their tails the instant there was movement outside the tub. Nothing like the filthy Biaks, that carry on like there's no tomorrow, in front of guests and whatnot.
Ovulation.
You can see the poor girl is carrying a load and both ovaries have their work cut out!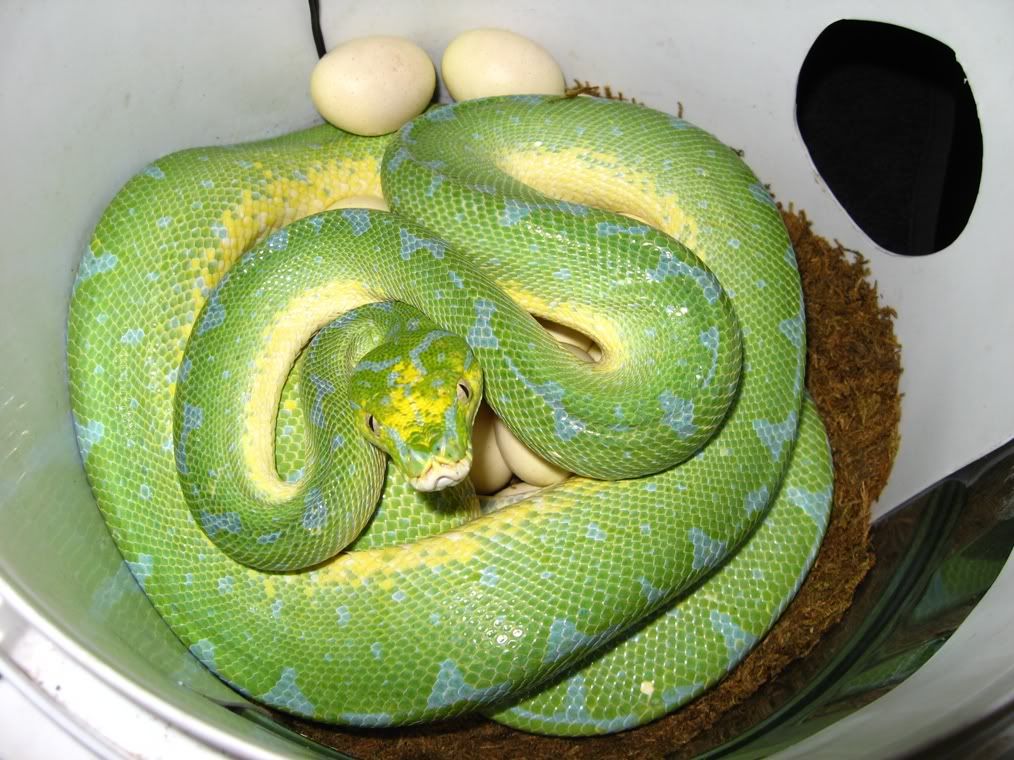 Right on time! I was keeping an eye on her to avoid clumping of the eggs, so when number 24 popped out and she was thoroughly exhausted, I pulled her with no trouble and gave her a warm bath.
24 eggs! Really impressive for a first time mom, even though one can see that there are a few unfertilised eggs amongst the lot. Oh well...
Into the incubation box.
2 mercury and 3 digital thermometers should give a fairly accurate idea of where the temps are sitting. The long 30cm one is 100% accurate but almost impossible to work with as the reading changes instantly when you pick it up and is very, very difficult to see unless you are holding it to the light just right.
5 of the eggs were lost in the first week, but the 19 remaining fought tooth and nail through two thermostats that let me down, and three power failures.
Thank goodness for a decent generator!
Anyways, day 49 was time to cut the eggs . I followed the incubation regime outlined by Trooper Walsh, in the 70's and later the 80's, and finally, fine tuned by Greg Maxwell in the 90's.
Within a few hours there were little faces poking out everywhere.
Here are our little SuperBeasts.........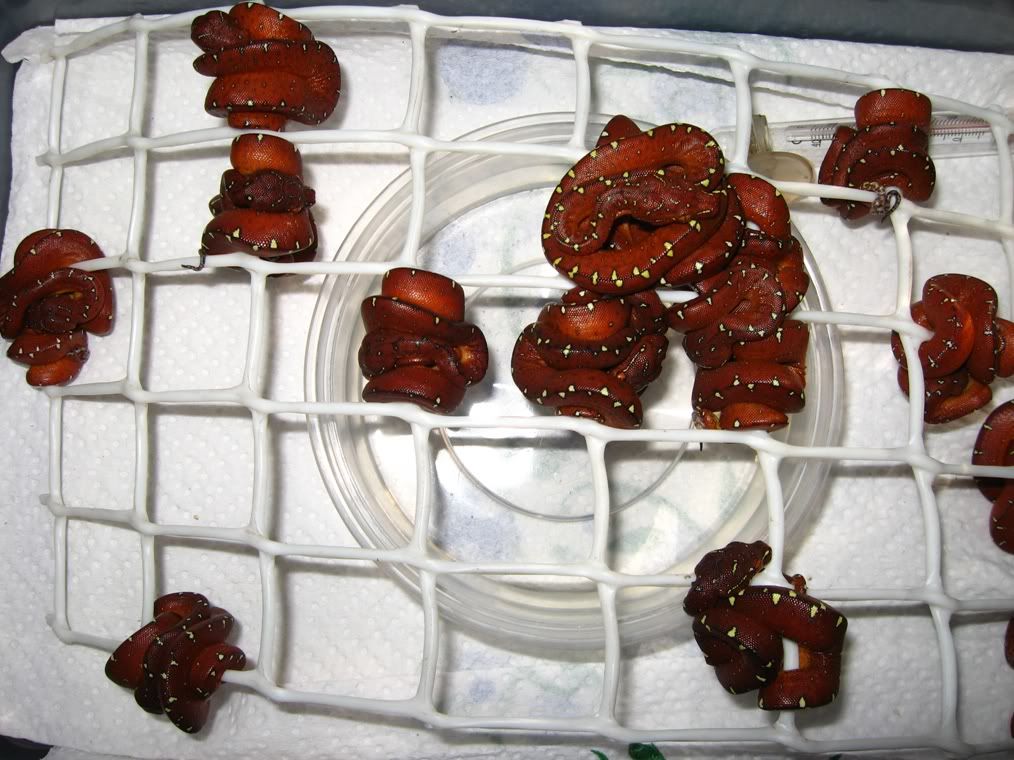 Add me on FB (Graeme Lotter) to keep up to date with what's happening at SnakesnAdders if you're interested, and thanks for looking.